When I learned of the hiring of Patti Poppe as CEO of PG&E, my thoughts went to the impressive number of women leading major utilities throughout the country. I wondered why the utility industry, rather than tech or healthcare, seems to have such a tremendous record of success for female executives. And with the annual BERC Women in Energy event fast approaching (it's on Thursday 12/10 at 6pm PT!), I figured now is the time to educate myself. 
This post shares what I learned as well as the subsequent questions I hope to hear addressed at the Women in Energy event this week.  If you share an interest in these topics, I invite you to join the discussion on Thursday by registering here (it's free and open to all women and allies).
Patti Poppe, CEO of PG&E
Three weeks ago, Patti Poppe was announced as the new CEO for Pacific Gas & Electric – the utility that provides electric service to the Bay Area, including UC Berkeley, and a large swath of Northern California. Arriving from a much-applauded tenure as the CEO of CMS Energy in Michigan (and as the first woman to move from one Fortune 500 CEO role to another), Patti's hiring has been met with optimism. Yet enormous challenges await.
As a utility CEO, Patti is not alone in taking on the challenges of a rapidly changing electric system. While the impacts of climate change may be more acutely felt in California today, the shift to a lower carbon electric system will a disrupt utility operations throughout the country in the coming decades.
As a female utility chief executive, Patti is in good company. For an industry often maligned as being slow to change, eight of the nation's largest electric utilities are led by women (see list below), including 5 of 29 utilities in the S&P 500 (or 17%). This is especially remarkable considering that only 22% of the utility workforce consists of women, compared to 47% in other industries.
Female CEOs at major U.S. electric utilities:
Pat Kampling, CEO, Alliant Energy (WI)

Paula Gold-Williams, CEO, CPS Energy (TX)

Lynn Good, CEO, Duke Energy (NC)

Mary Powell, CEO, Green Mountain Power (VT)

Connie Lau, CEO, Hawaiian Electric Industries (HI)

Patti Poppe, CEO, Pacific Gas & Electric (CA)

Maria Pope, CEO, Portland General Electric (OR)

Pat Vincent-Collawn, CEO, PNM Resources (NM)
However, the bench of female leaders within even the most diverse utilities is shallow, and the success of individual utilities does not necessarily reflect growing opportunities for women across the industry or within energy companies more broadly.  Much more can, should, and must be done to provide more equitable opportunities for women at all tenure levels, inclusive of recruiting, retainment, mentorship, wages, and every aspect of career advancement.
In preparation for BERC's annual Women in Energy event, I dug into two questions spurred by the hiring of Patti Poppe and the success of female CEOs within utility companies, namely:
What has contributed to the success of female leaders in the utility space?

How much does success at the CEO level support career advancement for women at all tenures?
What has contributed to the success of female leaders in the utility space?
Why does becoming CEO appear to be more common for women in major utilities than in other industries? Is running a utility less time-consuming or easier than other Fortune 500 companies? (Definitely not! Nor need it be.) Are government-mandated quotas forcing such outcomes? (Nope.) Do utilities offer more flexibility that make them better fits for high-achieving women? (Maybe, but not by much.)  
I believe the more likely answer has two parts:
Utilities were among the first companies to make concerted efforts to tap their entire talent pool – not just a portion of it

The challenges facing utilities today (and over the past ~10 years) are problems that women are especially well-suited to address
Since the beginning of the 21st century, the utility industry has shifted rapidly – especially when compared to a stagnant 20th century. Deregulation and the California Energy Crisis shocked the system, further shaken up by the transition from coal power to natural gas and rise of renewable resources. The specter of climate change (and the related challenge of decarbonizing a still-very-carbon-intensive industry) promises to continue to push utilities to evolve and adapt.  
Concerned about the ability to address change with aging and homogenous management, utilities were among the first to offer leadership development programs focused on providing women financial and operational experience and ensuring every leadership position hired externally includes a diversity component.  Put succinctly by Tierney Remick of the organizational consulting firm Korn Ferry:
"Leaders in [utilities] at the time were realizing that management would be in a better place if it tapped into the entire talent pool instead of just half of it."
The core business goal of succeeding financially served as an impetus for diversifying hiring practices – but I believe that may be only part of the story.
Managing change is hard! It requires bold leadership, resilience, and initiative, as well as the ability to develop others and lead with integrity and honesty. These skills are essential for utility leaders today as they seek to ensure the long-term sustainability of their organizations.
And each of these skills is an area where high-performing women, on average, outperform high-performing men, according to a 2019 study of thousands of 360-degree reviews of male and female business leaders by Zenger Folkman (detailed in this HBR article). 
That might sound controversial at first, but women are already expected to take initiative, show resilience, and make bold decisions – all while proving they care about others and can develop team members.  To succeed in even middle-management roles, women must show aptitude at skills that many men must not demonstrate until later points in their careers. 
For example, a 2018 study found that influence within organizations was closely tied to warmth for women, but not for men.  More simply, the degree to which women appear caring and "prosocial" affects their level of influence – while this is not true for men. In these organizations, women must do more to build influence and achieve mid-career success – with implicit benchmarks around people management that often don't appear for men until more senior roles.  
If female leaders are provided the opportunity to work across functions while simultaneously being expected to demonstrate the skills closely aligned with managing change, is it any wonder why so many female CEOs are leading utilities during a time of rapid transformation?
But even if this can help explain the emergence of more female chief executives within the utility industry (and remember: female CEOs still only make up 17% of all utility CEOs) – what does CEO-level success mean for women throughout the rest of utility organizations?
How much does success at the CEO level support career advancement for women at all tenures?
Unfortunately, not enough. The success of individual women is often earned despite cultural and organizational norms, rather than because of them. While some women successfully navigate the minefield of career advancement with less support from formal and informal mentors than their male counterparts, many women who aspire to the highest rank "find themselves siloed too early in their careers."  This matches data provided by a McKinsey and LeanIn.Org study of 270 companies across industries that shows how the portion of women in management pipelines dwindles with increasingly senior roles: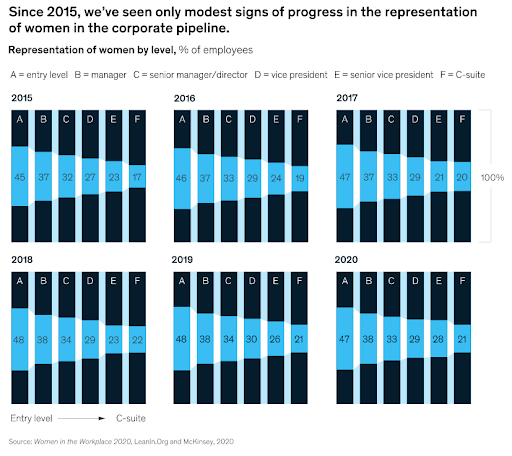 Referred to as the "broken rung" problem, the 2020 McKinsey study saw women continue to lose ground at the first step up to manager for the sixth year in a row, despite gains for women in more senior roles. This means that women, especially women of color, continue to see significant drop-off from entry-level to manager roles. For every 100 men promoted to manager, only 85 women were promoted—and this gap was even larger for women of color: only 58 Black women and 71 Latinas were promoted. 
In recent years, a popular explanation for at least part of this "broken rung" phenomenon has centered upon the assertion that female workers lack the self-confidence of their male peers and this hurts their chance at success. Messages, like Sheryl Sandberg's "lean in" mantra, are used to encourage women to be less hesitant and sell themselves more.  Recent evidence suggests that this "self-confidence gap" is not actually seen in empirical studies – though the perception of confidence gaps (e.g. from peers or supervisors) persists.  This HBR article dives deeper into this topic and suggests several actions that organizations can take to ensure women are rewarded equally, such as adding benchmarks for skills that are implicitly but not explicitly valued today. 
Where do we go from here?
Our BERC alumni and supporters work at organizations across the energy ecosystem (and beyond) – from community solar development to clean infrastructure funds. While distinct from utilities, these organizations face many of the same challenges, including the need to better support the career advancement of women throughout their organizations.
This challenge is one with no easy answers. But, like other difficult challenges, we at BERC look to our broader community to share their lessons and experiences as a means of informing and instructing future action.  
With that in mind, on Thursday, December 10th, BERC will host its annualWomen in Energy event.  Through two virtual keynote presentations, a moderated panel discussion, and small-group networking, our team hopes to help provide practical examples and inspiration for women in energy and their allies. 
Topics we aim to address include:
How can women at all levels of energy organizations set themselves up for success?

How can allies, both company leaders and peers, best support women?

How can the success of female leaders contribute to more opportunities for diversity, equity, and inclusion of other groups of people?

How can success within specific companies or sub-sectors be translated to other organizations?
Our speakers include a panel of fearless leaders at various stages of their careers and who work in different sectors of the energy industry. We are excited to host:
I look forward to learning from each of these inspiring women and challenging myself to be a more active and empowered ally moving forward.
If you're interested in attending, you can register for free on Eventbrite. And if you'd like to discuss any of the topics above, I welcome your ideas and input via my personal twitter handle (@stevenbrisley).  
--
P.S. A note to allies (aka white men like me):
I have greatly enjoyed researching this topic yet writing this post has produced significant anxiety – as I fear saying the wrong thing. My experience at Berkeley, however, has taught me that embracing this discomfort is both an opportunity and an obligation for me as someone with the privilege to otherwise ignore this topic. I expect to be wrong, hope to learn from the process of putting these thoughts out there, and trust that others will engage with good faith. I think that is the least we can do!   
In that spirit, I encourage you to attend our Women in Energy event (and others like it), while being thoughtful about how to best support women attendees. For me, this means attending and listening, while ensuring my participation does not come at the expense of those for whom I hope to be an ally – such as by over-participating in the networking sessions.