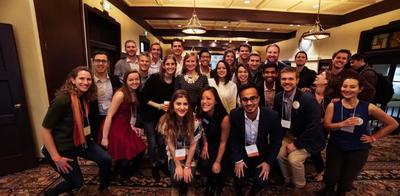 Thank you to everyone who attended the 13th annual BERC Energy Summit! We had a great time welcoming all of you and learning more about the exciting work being done around energy and resources in the Cal community and beyond. A big thanks to all our sponsors and speakers who made this Summit the best yet.
Thursday night kicked off the summit with our Career Forum, Network-shops and the Innovation Expo. At the Career Forum, both undergraduates and graduate students had the opportunity to meet and engage with some of the leading companies in the energy and resources space, including Chevron, EVgo and more. During the Network-shops and the Innovation Expo, Summit attendees flexed their innovation muscles by interacting with current challenges and presenting their own work to industry leaders and collaborators alike.
Friday introduced our keynote speaker, Kevin de León. His speech called for environmental justice and energy access, while also castigating the lack of progress on federal level policies out of step with California's own environmental leadership. The rest of the day followed with multiple panels on critical energy and resources challenges, including energy in a development context, water and electrical infrastructure resilience and the stages of a cyber attack on California's electrical grid. Closing out the Summit, organizers and attendees decamped to the Bancroft Hotel for some well earned happy hour drinks and to celebrate another successful and engaging BERC Summit. In particular, we loved hearing all your questions and getting to learn from the passionate individuals in multiple sectors that make up the BERC community.
Click here to go more in depth with Kevin de León and his Summit speech by our friends at greentechmedia.
If you did not get a chance to attend this years Summit, we would love to welcome you next year. Additionally BERC's work is far from over, and we have many upcoming events and opportunities for our community to continue to engage. Follow us on Facebook and Twitter to stay in the loop, from Summit and beyond.