The 2023 Resources Symposium, organized with the ambitious goal of putting the 'R' back in Berkeley Energy & Resources Collaborative, took place on October 30th and 31st. This year's topic was Mineral Management and participants discussed how critical minerals could make or break the clean energy transition. The conversations included 28 panelists from industry and academia, ten cleantech firms participating in the career fair, 15 student researchers, six startups in the pitch competition, two keynote speakers, and over 350 attendees over two days. With the second day of the event falling on Halloween, it was a spooky celebration of sustainability.
Omri Even-Tov Kicking off the Oct. 31 Talks
---
Innovation Expo
The Symposium Research Exposition highlighted research related to necessary materials  for a net-zero future. Undergraduate, graduate, and PhD student researchers showcased their work conducted in disciplines ranging from Chemistry to Electrical Engineering to Architecture. The showcase was judged by Dr. Carolin Sutter-Fella, a Staff Scientist at the Molecular Foundry at Lawrence Berkeley National Laboratory.
First place went to Rafaela Brinn for her work on "Electric Field Manipulation of Single Spins in Rare-Earth Doped Ferroelectric Thin Films."
Second place went to Tom Böehnel, Ando Shah, and Suraj Nair, for their research titled "Global Sand Watch: Leveraging AI for Sustainable Development."
Third place went to Sydney Hemenway for her research on "Electrocatalytic CO2 Reduction: Mechanisms to Improve Efficiency."
The Audience Choice Award, voted on by attendees, went to Julia Campbell, Carla Benato Milsted, and Julie Wang for their work titled "Novel Materials                  for Organic Solar Cells."
The Exposition was a valuable opportunity to learn about the innovative and multidisciplinary research working toward the energy transition here at Berkeley. Thank you to all of our participants, attendees, and our judge Dr. Carolin Sutter-Fella!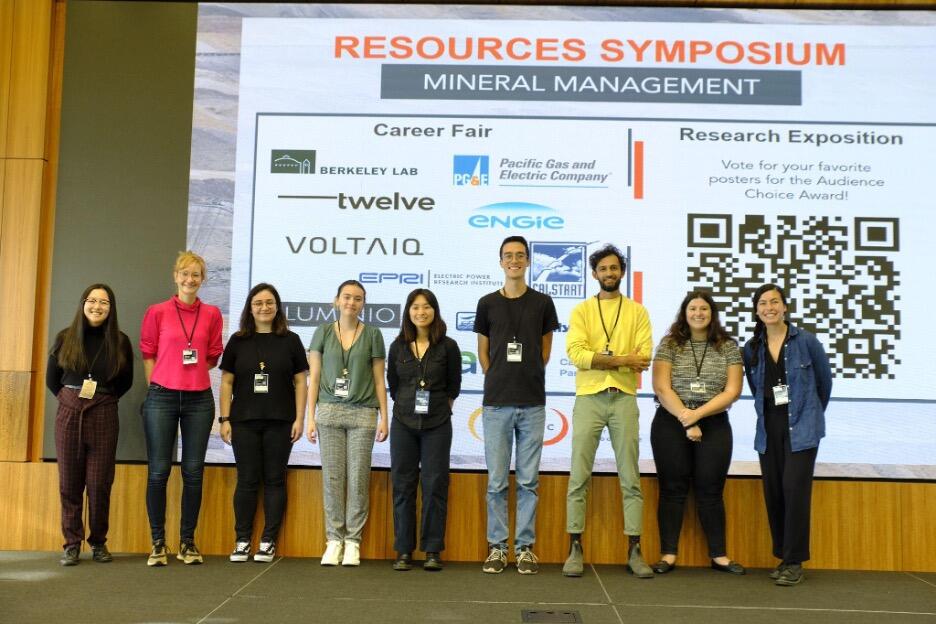 Sophie Koh, Dr. Carolin Sutter-Fella and Winners of the BERC Symposium 2023 Research Expo
---
Panels
Across both days of panel discussions, experts spoke on a variety of issues related to the energy transition.
On day one, there were two panels. In the first panel, policy experts detailed how policy, including the Inflation Reduction Act, will impact domestic mining practices. The second panel involved researchers and lithium-based entrepreneurs highlighting the state of lithium demand and supply considerations.
The following day's first panel featured non-profit representatives who discussed ethical issues surrounding mining in developing nations, and solutions to maximize economic prosperity for local communities while minimizing environmental degradation. Afterwards, there were two concurrent panels. The first involved business owners detailing innovation in mineral extraction and use, and the second consisted of auto industry professionals presenting how critical mineral extraction affects the electric vehicle market. Finally, the last set of panels included a battery recycling CEO and PhD researcher explaining the importance of battery recycling for minimizing impacts of battery manufacturing, and community organizers from the Imperial Valley summarizing challenges of lithium extraction for local communities.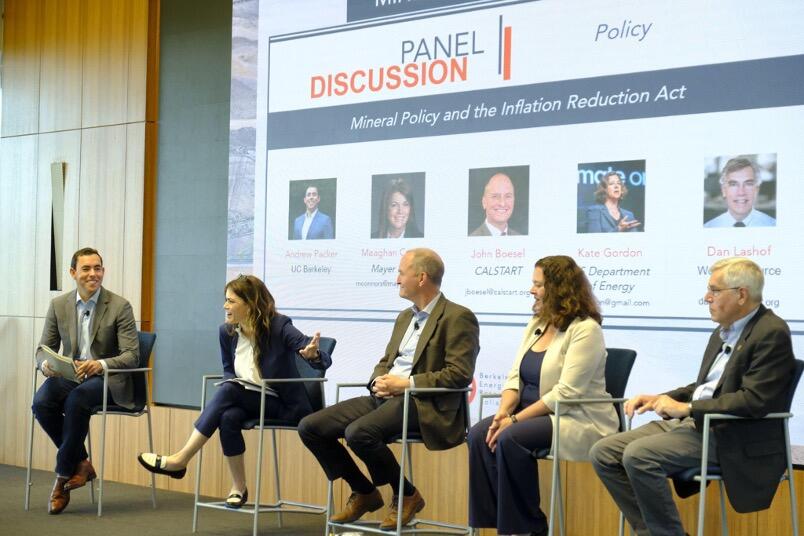 Panelist Meaghan Connors Leaning into the Discussion on Mineral Policy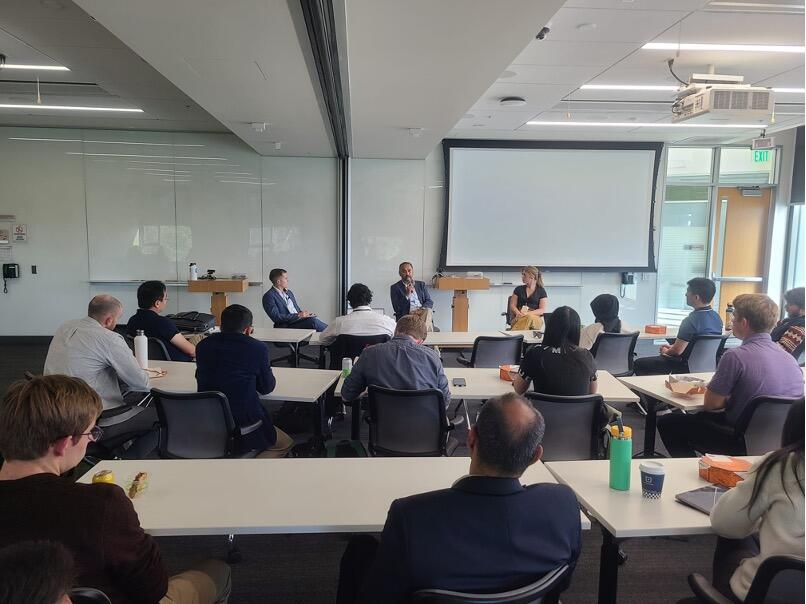 Ellison Etnier (BERC VP Symposium), with Panelists Dr. Surinder Singh and Jessica Dunn Covering Battery Second Life and Recycling Concerns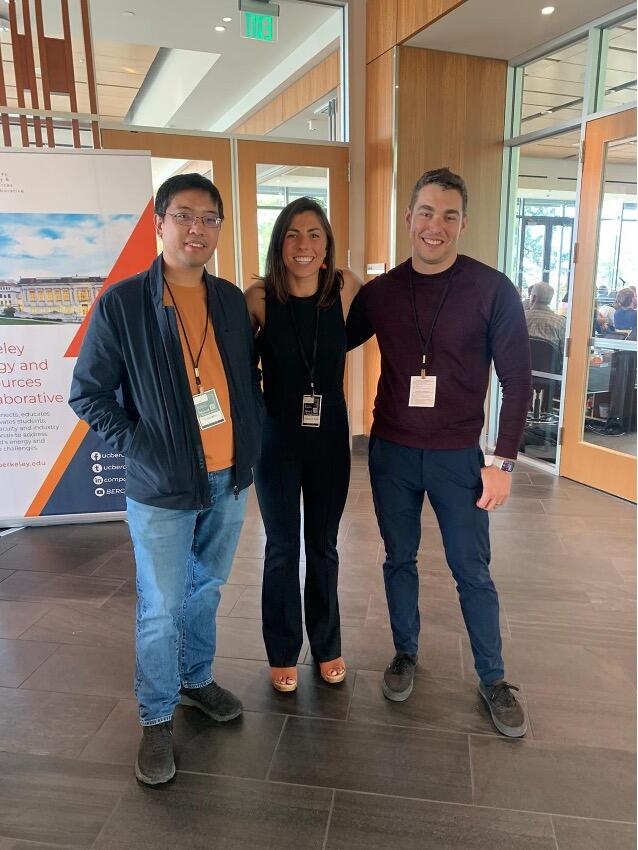 Katharine Eger (BERC Co-President) with Panelists (Eugene Beh and Max L'Etoile)
---
Pitch Competition
The future of the mining and resource recovery sector is poised for transformation with the advent of the innovative technologies presented during the pitch competition. AlkaLi Labs' biological solutions for mineral extraction promises a cleaner alternative to conventional mining. RareTerra's bio-process for rare-earth element extraction could revolutionize the industry with its environmentally friendly approach. RockFix's reactor technology not only offers efficient extraction of critical battery metals from waste but also contributes to CO₂ sequestration, aligning with global climate goals. REEscovery's protein-based processes provide a sustainable method for recovering rare earth elements, potentially reducing the environmental impact significantly. Get Lit Technologies' electrochemical process for converting brine into lithium chemicals could streamline lithium production, a critical component in the battery industry. Lastly, EcoHoist's innovative approach to eliminating underground haul trucks could drastically enhance mining efficiency and safety. Collectively, these technologies represent a shift towards more sustainable, efficient, and environmentally conscious practices in the mining and resource recovery sector, heralding a new era of responsible resource utilization.
1st Prize: Alkali Labs
2nd Prize: RockFix
3rd Prize: REEscovery
---
Keynote
The Symposium was punctuated by a fireside chat between Vivas Kumar, Founder and CEO of Mitra Chem, and Ellen Ehrenpreis, Principal at Orrick and a primary investor in Mitra Chem. Veering between optimistic and cautious, the conversation revealed the crux of mineral management: the United States is blessed with a natural endowment of critical minerals but doesn't currently possess the capabilities to use them in time to meet our energy transition goals. The next few decades will be a crucial exercise in developing infrastructure and building new supply relationships, all while balancing the need for urgency and affordability against the experiences of communities directly impacted by mining & refining. You can view the conversation here.
Thanks to the team!
Sophie Koh, Director of Innovation Expo
Mel Moyce, Director of Career Fair
Sparsh Agarwal, Director of Career Fair
Daniel Kriozere, Director of Pitch Competition
Lynda Negron, Director of Panels
Pooja Agarwal, Director of Panels
Christian Brumme, Director of Panels
Quinn Wilson, Director of Panels
Adam David, Director of Panels
Forrest Freeman, VP of Symposium
Ellison Etnier, VP of Symposium