Zero waste, recycling and the environmental impacts of our built environment fueled debate at this year's installment of BERC's Resources Roundtable, drawing decisionmakers from the U.S. Environmental Protection Agency, the Lawrence Berkeley National Laboratory and private waste management. 
BERC's signature fall event, which filled the Anna Head Alumnae Hill on Oct. 31, explored a pivotal part of the climate change picture, with landfills now the third biggest producer of methane in the U.S., according to the EPA.
Timone Hood, zero waste and green building coordinator at the EPA (pictured below), said the agency's tool for tracking waste, recycling and composting over time has helped gather valuable data. The EPA's Waste Reduction Model, or WARM, is a comparison tool for tracking greenhouse gas emissions associated with alternative waste management practices. 
"Even if it's not perfect, it's really important and valuable to measure things," Hood said about the EPA tool. "We are lucky to be in the center of zero-waste land in San Francisco. With the bins, the youth conservation corps goes out into communities using 17 different languages to really explain what the bins mean, and what it means to them."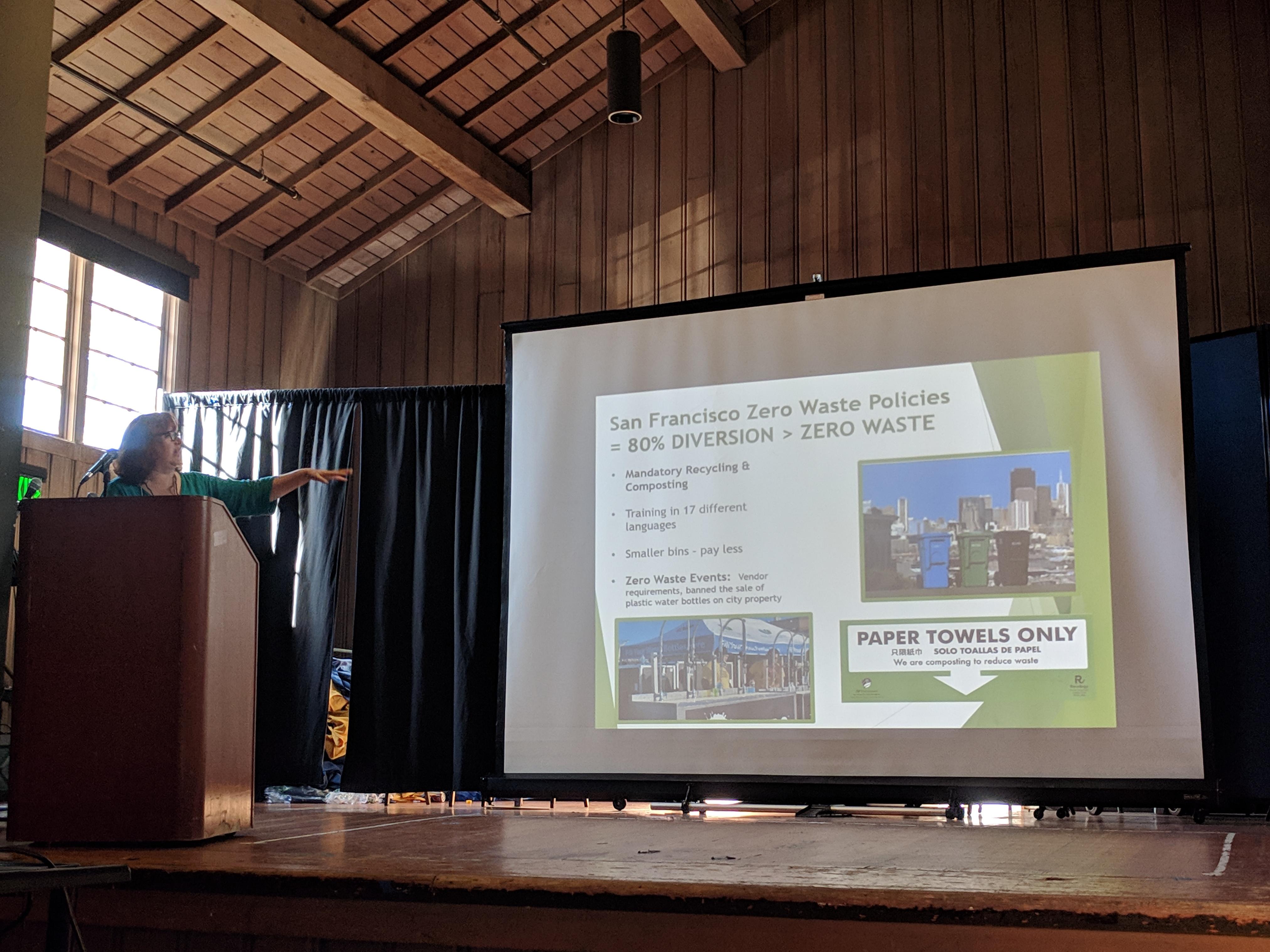 The built environment - buildings, roads, bridges - is an often overlooked source of waste production, especially when structures are town down, Hood said.
"When we think about materials and waste, we should not just be thinking about what we throw away at home," she said. She noted that recycling rates in the U.S. have remained stuck around 35 percent over the last several years. By comparison, Germany recycles about two-thirds of its waste, according to the European Union.
Later in the morning, a panel of waste experts from around Northern California explored the nuances of the "zero waste" movement. UC Berkeley, for one, has pledged to become "zero waste" by 2020, meaning the campus won't be a net contributor of trash to landfills.
Panel speakers stressed that the responsibility to reduce waste is shared between people and product manufacturers. 
"Zero waste is an opportunity to make a difference in how we live, and there are ways to live this in all areas of life in a way that is a journey," said Laurenteen Brazil, management assistant for the city of El Cerrito's solid waste and recycling program.
For their part, retailers such as Walmart, Amazon and others are investing in Closed Loop Partners to "close the cycle" and figure out how to do waste innovation on the upstream (smarter packaging) and the downstream (making plastics more recyclable, incentivizing secondary markets), panelists said.
UC Berkeley professor Kate O'Neill finished out the afternoon with a talk about her research into international waste policies titled "The New Global Politics on Waste."