Spring Break is a great time to relax, spend time with family, or travel. For me, Spring Break was the perfect opportunity to attend the ICEPAG 2019 Microgrid Global Summit. The International Colloquium on Environmentally Preferred Advanced Power Generation (ICEPAG) is an annual clean energy conference presented by the Advanced Power and Energy Program (APEP) at UC Irvine. With a focus on microgrids, ICEPAG invites professionals in both academia and industry to share their cutting-edge developments.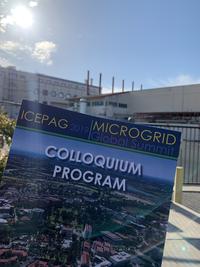 The conference explored the current state of microgrids around the world, even including UC Irvine's own microgrid test bed. It was great to hear about the growing potential for microgrids, especially for resiliency in the face of California's devastating wildfires. The conference gave additional attention to the role that hydrogen could play in both as a fuel for microgrids and as a form of energy storage.
It was especially fascinating to hear from people around the world about their own microgrid research. For instance, Josep Guerrero from Aalborg University in Denmark spoke about maritime microgrids and the applications of microgrid technologies on electric ships. Additionally, George Roe from the University of Alaska, Fairbanks, detailed the potential for microgrids to serve remote communities in Alaska, where energy prices are some of the highest in the country.
APEP's own graduate students excellently presented on emerging technologies within transportation that could play a role in microgrids, such as plug-in hydrogen fuel cell hybrids, electric vehicles and buses, and autonomous vehicles. Their presentations were especially meaningful for me since I worked as a summer research intern for APEP almost four years ago. ICEPAG was the first time I reconnected with the APEP graduate students since I was a summer intern. It was so great to catch up with the same graduate students that I had worked with and see how their research progressed. I also got a chance to speak with Dr. Scott Samuelsen, the director of APEP who graduated from UC Berkeley for both his undergraduate and graduate degrees.
Overall, APEP's ICEPAG Microgrid Global Summit was a very interesting and insightful conference, and I am so happy that I was able to attend and reconnect with the APEPers. I would highly recommend that anyone interested in energy and microgrids attend this conference next year!