On March 8th and 9th, the 2023 BERC Energy Summit was hosted in Spieker Forum at Haas. The much-anticipated event brought together 400 industry leaders, scientists, policymakers and students, to learn, network, and exchange ideas about the energy transition. The Summit was the 16th annual conference of the Berkeley Energy and Resources Collaborative, one of the largest student-run conferences nationwide.  
The theme for the 2023 Summit was Making the Energy Transition Work. The event featured: an Innovation Exposition showcasing research from students and researchers across the UC Berkeley campus; a Career Fair consisting of companies ranging from high-flying climate tech startups to large public utilities; a full day of panels covering topics from the Energy Transition in Emerging Economies to Energy Flexibility and the New Grid, and included a conversation with keynote speakers Gabriel Kra (Co-Founder at Prelude Ventures) and Dr. Cheryl Martin (former Deputy Director at ARPA-E). 
Innovation Expo
The Innovation Expo, sponsored by Lawrence Berkeley National Laboratory (LBNL), showcased cutting-edge research in fields such as energy modeling, battery storage, and smart-grid systems. It provided an opportunity for summit attendees to engage with student researchers on innovative energy topics. The researchers from departments across campus, including LBNL, College of Engineering, Haas School of Business, and Rausser College of Natural Resources, shared their work through posters and presentations. 
The winners for the Innovation Expo were: 
1st Prize: Evan Spotte-Smith - "Explaining Battery Electrolyte Decomposition With Chemical Reaction Networks."

2nd Prize: Zachary Tronstad - "High Transference Number Polymer Composites for All-Solid-State Batteries."

3rd Prize: Marius Wiggert - "Energy-efficient Ocean Autonomy by Hitchhiking Currents."

Audience Choice: Sophie Koh - "Green Manufacturing of Organic Solar Cells."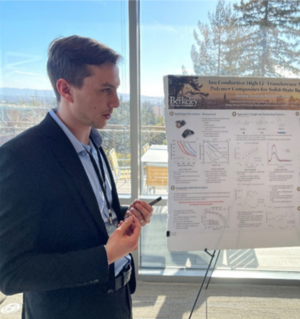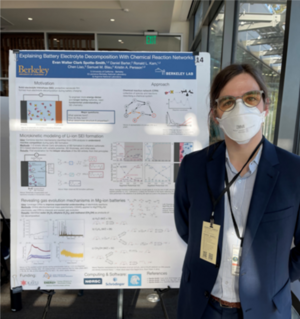 Evan Spotte-Smith [1st Prize]                               Zachary Tronstad [2nd Prize]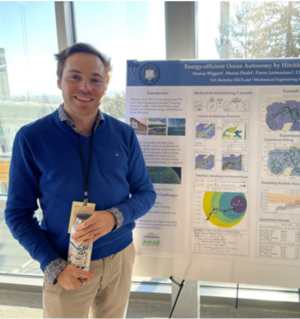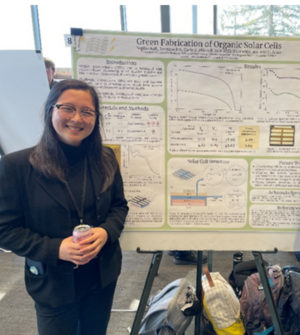 Marius Wiggert [3rd Prize]                                  Sophie Koh [Audience Choice]



Career Fair
The Career Fair at the BERC Summit gave attendees an excellent opportunity to gain valuable insight and advice for careers in the dynamic and rapidly evolving renewable energy sector. Job seekers explored career options in the energy industry, connected with potential employers, and learned about the skills required for different roles. The fair featured companies and organizations from various sectors of the energy industry, including EDF Innovation Lab, California Public Utilities Commission, Lilac, Blue Current, and Pacific Gas and Electric Company.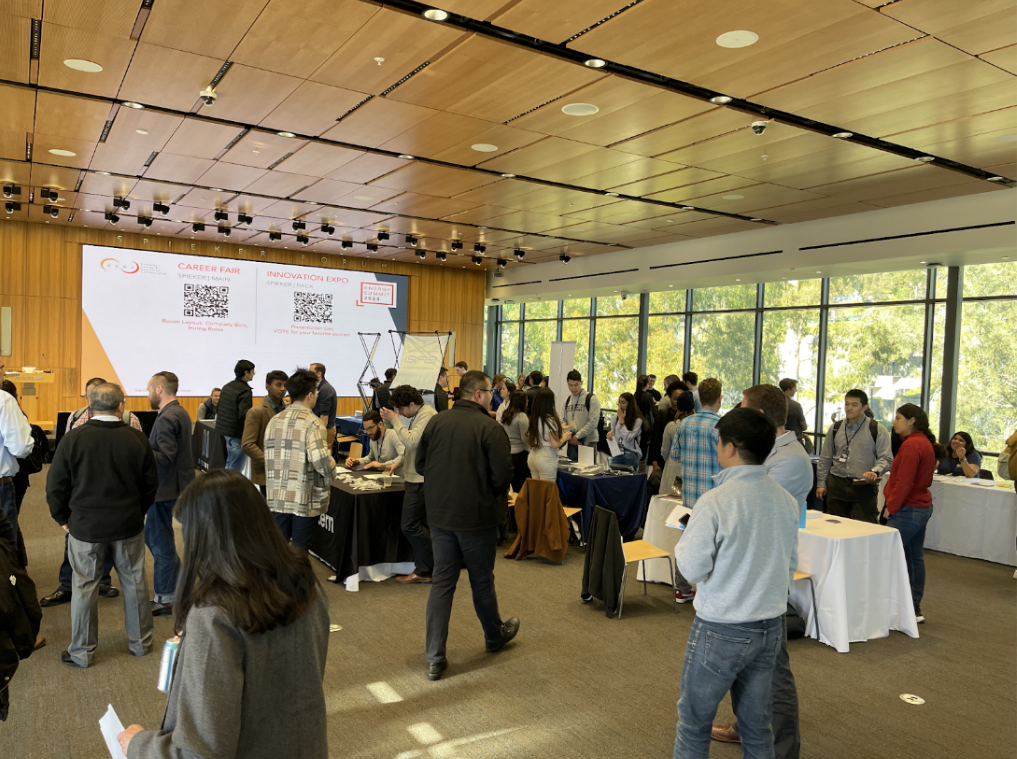 Panels
The panels at the 2023 BERC Summit kicked off with a session on Energy Transition in Emerging Economies. Dr. Dan Kammen, one of the lead authors of the Intergovernmental Panel on Climate Change, which shared the 2007 Nobel Peace Prize, joined Murefu Barasa - the founder and managing partner of EED Advisory Limited, a Pan-African consulting firm, and Eshrat Waris - Principal at SOLshare, a climate-tech company located in the heart of Bangladesh, in a debate asking, "Can emerging economies leapfrog along the energy transition?" Moderated by Sandra Chavez, Manager in the Partnerships team of Breakthrough Energy, the panel delved into an insightful discussion on the distinct opportunities and challenges that the Global South faces in transitioning to a net-zero future.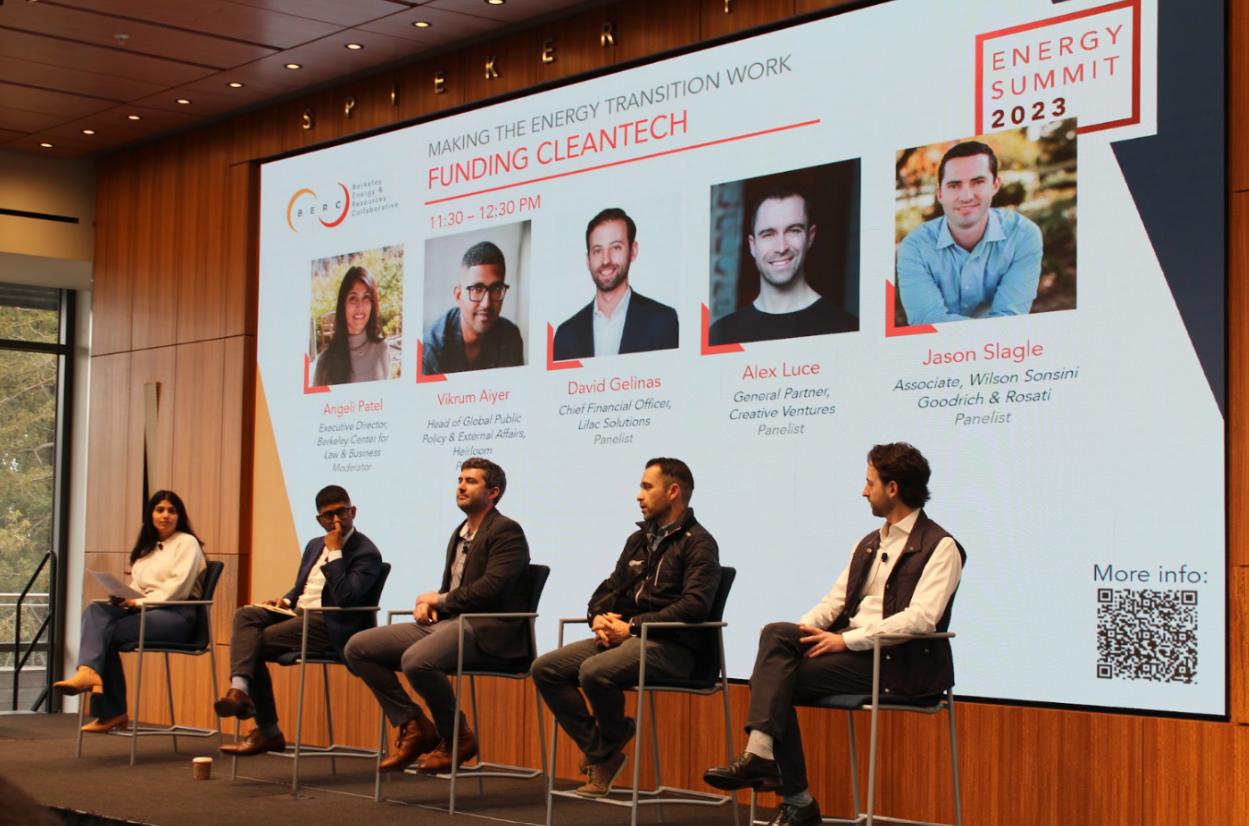 In the next session on Funding Cleantech, industry leaders shared insights on funding technology critical to the energy transition at different stages (e.g., seed/venture, grants, project financing), the advantages and downsides of each option, and new developments in the sector, including the Inflation Reduction Act of 2022. The panel was moderated by Angeli Patel, Executive Director of the Berkeley Center for Law and Business, and hosted Vikrum Aiyer - Head of Global Public Policy & External Affairs at Heirloom, David Gelinas - Chief Financial Officer of Lilac Solutions, Alex Luce - General Partner at Creative Ventures, and Jason Slagle - Associate at Wilson Sonsini Goodrich & Rosati. 
The BERC Summit Keynote fireside chat featured two experts in the energy industry: Gabriel Kra, Co-Founder at Prelude Ventures and Dr. Cheryl Martin, former Deputy Director at ARPA-E. Kra co-founded Prelude Ventures in 2013, a venture capital firm investing in solutions to climate change. Dr. Martin founded Harwich Partners, a consulting firm that engages public and private sector entities in designing and implementing solutions for complex problems, especially those related to energy, sustainability, urban development, and technology adoption at scale.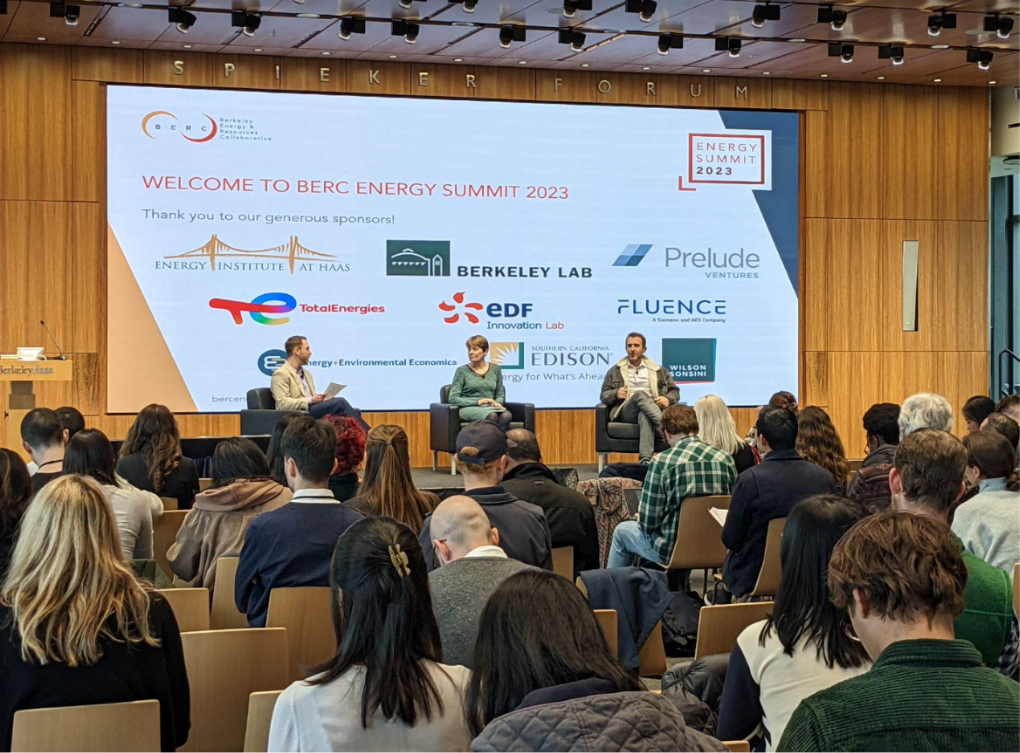 The first set of afternoon sessions were on (1) Energy Flexibility and (2) Decarbonizing Heat. The former focused on advancing the modernized electrical grid system by integrating advanced technologies and innovative solutions to improve the efficiency, reliability, and sustainability of energy generation, distribution, and consumption. Lucas Davis, the Jeffrey A. Jacobs Distinguished Professor at Berkeley Haas, was joined by Emily Douglas - regional director for distributed energy solutions at ENGIE, Quinn Nakayama - Senior Director of Grid Research Innovation and Development (GRiD) at PG&E, and Jeff St. John - Director of News and Special Projects at Canary Media. The session on Decarbonizing Heat delved into solutions that can reduce or eliminate the carbon emissions associated with heating and the pathways for timely deployment of these solutions into industrial infrastructure.The panel hosted Jessie Knapstein - Associate Director at Energy and Environmental Economics Inc., Dr. Kathleen Jurman - Corporate Technology Scout with Dow Chemical's Ventures and New Business Development Group, Caroline Jo - VP of Project Finance at Rondo Energy, and James Funk - Vice President of Sales at Bloom Energy. 
The final sessions of the day discussed (1) Battery Technology and (2) A Just Transition. The panel, Beyond Lithium, dove into battery reuse and recycling, improvements to energy-intensive manufacturing, and alternatives to lithium. Moderated by Emily Abdo - PhD Student in Chemical Engineering at UC Berkeley, the panel consisted of Michael Burz - CEO and Co-Founder of Enzinc, Dr. Gao Liu - Group Lead of the Applied Energy Materials group at Lawrence Berkeley National Laboratory, and Dr. Yanying Lu - Senior Battery Scientist at Sylvatex. The final panel, Democratizing Energy: Ensuring a Just Transition, asked the following: How does climate action intersect with racial justice and economic equity? How have systemic issues connected to energy and infrastructure development disproportionately harmed communities of color? How can we remediate the social, economic, and health burdens on underserved communities who are at the frontline of climate change? The panel was facilitated by Cristina Crespo, a PhD Candidate and Link Foundation Energy Fellow in the Energy and Resources Group at UC Berkeley. The panel hosted Sara Chandler - Managing Director of Equity and Access at Elemental Excelerator, Amee Raval - Policy and Research Director at Asian Pacific Environmental Network (APEN), and Alvaro Sanchez - VP of Policy at the Greenlining Institute.
Thanks to the 2023 BERC Summit Organizing Team!