Among the numerous changes to society caused by COVID-19, an experiment is playing out in city streets and sidewalks across America. Following lockdowns, as cities began exploring how to reopen businesses safely, a sudden need for policies and procedures to expedite access to outdoor spaces emerged.
Cities such as Oakland launched programs such as the "Flex Streets Initiative", allowing businesses to use public right of way spaces such as sidewalks and parking lanes. Specifically, the initiative "streamlines the permitting processes for the use of these spaces, while providing a free permit program."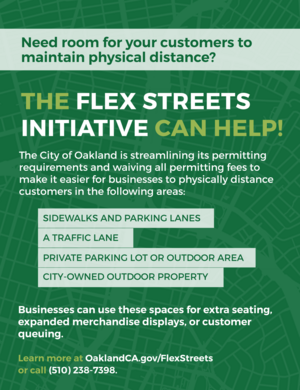 Oakland Flex Streets Initiative informational flyer.
One of the environmental benefits highlighted by the program is that "encouraging businesses' use of sidewalks and streets will reduce greenhouse gas emissions through reduced vehicle traffic." Prior to the Flex Streets program, bike sharing docks and public parklets (parking spaces converted into small parks) were the most visible examples of repurposing road surfaces away from vehicles for other purposes. 
Today, looking at a short segment of College Ave starting from Berkeley leading into Oakland as an example, one can find dozens of outdoor spaces.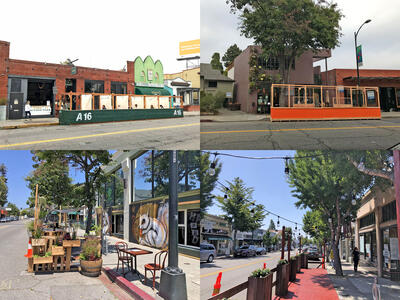 Parklets along College Ave near the border of Berkeley and Oakland.
Recently, I had the good fortune of being able to participate in this great outdoor experiment with a startup I am leading focused on reimaging outdoor spaces called Nimble Spaces
The startup emerged from a hackathon in April on social equity and micromobility organized by BERC and InnoDays and sponsored by EDF Innovation Lab. We were fortunate to have BERC Co-President, Christopher Jackson as part of the original hackathon team. In the hackathon, we proposed a micromobility charging parklet that could help electric wheelchair users. Six months later, my team and I are still pursuing the goals of our hackathon idea. Nimble Spaces was recently accepted into UC Berkeley's fall 2020 SkyDeck accelerator program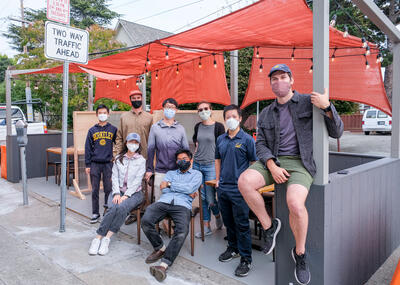 Graduate students from the College of Environmental Design joined the Nimble Spaces team volunteering to build the initial outdoor dining area. 
Our current project is a micromobility expansion hub for an outdoor dining space we built a few months ago. An additional 8 foot section of deck will be added to our existing 24 foot outdoor dining space to serve as a place for micromobility devices to park and charge for free. The initial focus will be on supporting charging of electric scooters, both shared and personally owned systems.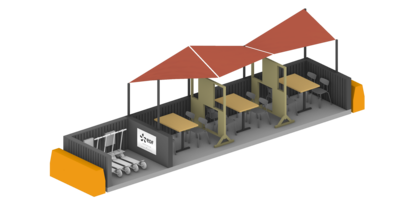 Planned micromobility charging hub to be added to existing outdoor dining space.
Looking further down the road, Nimble Spaces envisions a network of urban gathering places across cities connected by micromobility. Some of the micromobility may continue to move people, while autonomous drones and robots may transport and deliver goods between such urban outdoor spaces.
---
Team Nimble Spaces consists of graduate students Abby Yue Gao (M.Arch '21), Yifeng Wang (M.Arch '21), Titus Ebbecke (M.Design '22), Lu Liu (M.B.A. & M.Eng '21), Roland Saekow (M.Design '22).