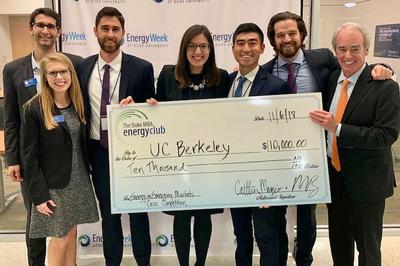 Held annually at Duke, the Energy in Emerging Markets Case Competition (EEMCC) connects students, academia and industry in pursuit of unconventional business-based solutions that expose unrecognized opportunities with positive social and environmental impact. This year's case prompt was designed in collaboration with PowerGen Renewable Energy (PowerGen), a leading off-grid energy firm specializing in the development, construction, and operation of photovoltaics-based mini-grids in Africa. Specifically, PowerGen tasked teams to submit recommendations on market entry strategies for its micro-grid business.
UC Berkeley sent a team of five representing Haas School of Business and the Energy & Resource Group. Competing against 34 other submissions, the Berkeley team was selected among 12 to participate at the finals held at Duke's Fuqua School of Business in Durham, NC on November 6th.
At Duke, the Berkeley team presented in front of a panel of judges comprised of experts active in the off-grid energy industry (Powergen), energy access financiers (USAID) and renewable energy project developers (NextEra Energy, Southern California Edison, Cypress Creek, and Duke Energy). And based on their "actionable" recommendations for PowerGen to enter West African markets, the team won first place and received the $10,000 finalist prize.
Duke University hosts this event annually as part of its Energy Week.
Name of Berkeley Students Attended: Isa Ferrall (MS/PhD), Felix Schadeck (MBA), Hao Shen (MBA), Chandler Sherman (MBA) and Joe Swartley (MBA)
Name of Event: Duke University's Energy in Emerging Markets Case Competition (EEMCC) Finals
Date of Event: 11/06/2018